March 7, 2015
March Beauty Favorites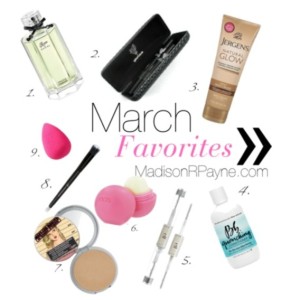 1. Gucci Flora, $100– I love this scent for spring, its so light and pretty!
2. Younique 3D Fiber Lash Mascara, $29– Y'all have heard me rave about this mascara for months, it's a LIFESAVER! You can get yours at www.WorryLessLashMore.com
3. Jergens Natural Glow, $7- This is my favorite self tanner to get started on my summer glow.
4. BB Quenching Conditioner, $34- Ah this makes my hair so soft! If you're like me and use a lot of heat on your hair you've gotta give this a try.
5. Elf Brow Gel, $1- Okay this little miracle is only $1! UH WHAT?! I love this products so much, it gives you an instant brow lift.
6. EOS Lip Balm, $3- I'm such a lip balm junkie. Currently, I keep reaching for my EOS lip balm ball. It's so fun to use if you haven't yet, you gotta try it!
7. Mary Lou Man-izer, $24- I tend to lean more towards gold highlighters because I think they imitate more of a natural glow and this one does just that. Trust me, this looks great on everyone!
8. Elf Stipple Brush, $3- I use this brush everyday for my highlight and contour, loved it so much I bought 3 more! Great quality and you can't beat the price.
9. Blender Buds, 2 for $25- This is what makes my foundation look like my skin, it's a makeup must have. I have original blender ball($20 each) & this one that Younique makes(set of 2 for $25). I can't tell them apart they are so similar. You can also get these buds at www.WorryLessLashMore.com