August 12, 2017
Grow Your Instagram: Ultimate Hashtag List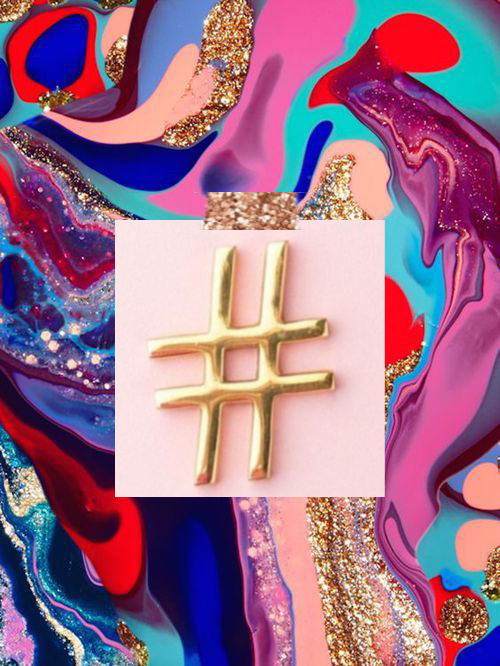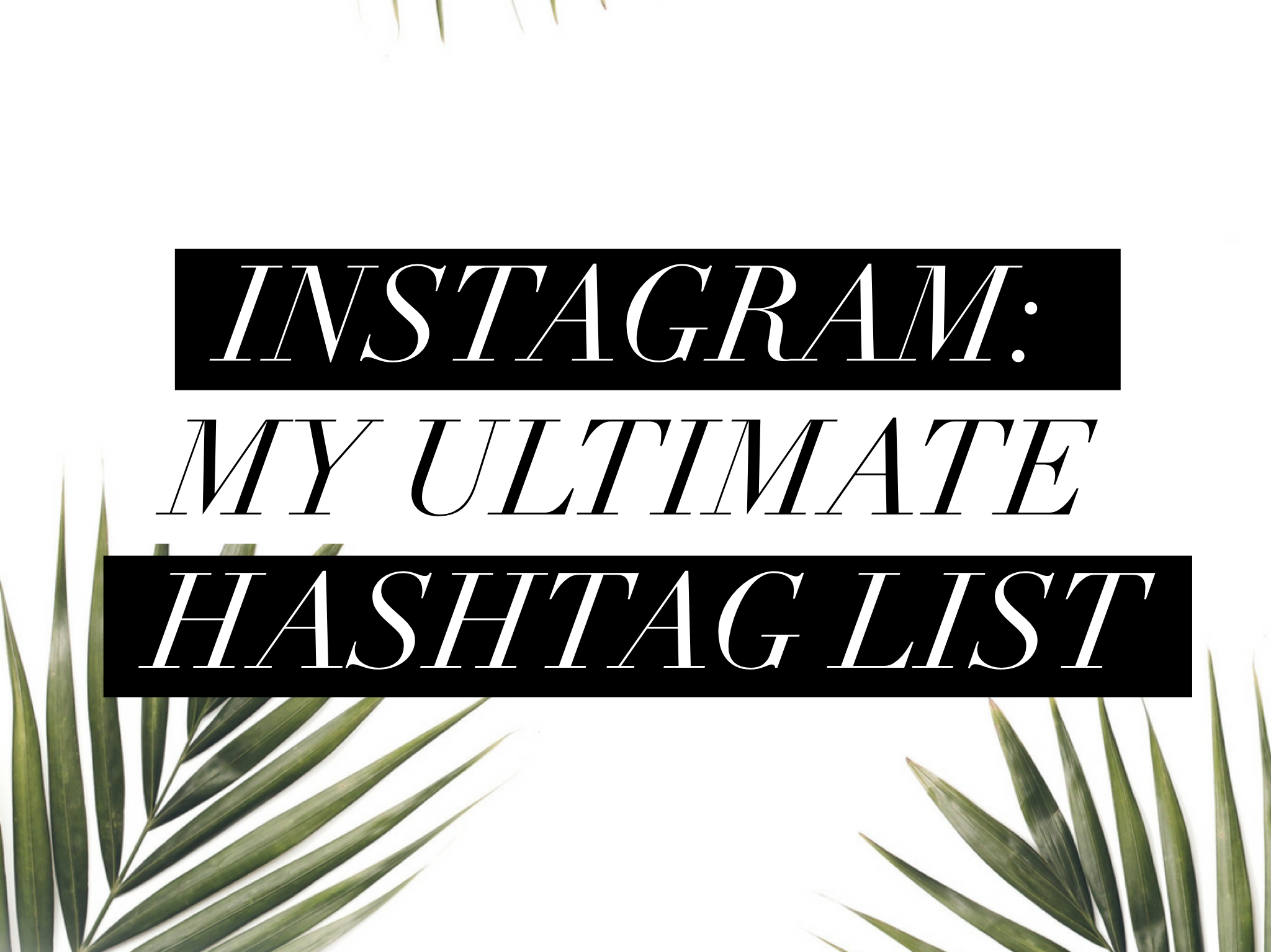 The number one questions I get asked everyday is how on earth I grew my Instagram following. At 205k followers, this girl has defintely learned a thing or two. Creating amazing content is still king in my opinion, however hashtagging is one way that you can help draw new eyes to your page. I will be writing more about other ways thru my upcoming social media/blog series.
Instagram will let you do 30 hashtags a post and I HIGHLY suggest you use them! I know not everyone likes hashtagging and may think it's annoying or looks messy, but I typically use just a few hashtags in my caption. For example, if it's a resturant in Houston, I will use my brand hashtag #MadAboutHouston, #EatWithMadz or #DrinkWithMadz. Then, I will put the other 28 below in the comment as soon as I post.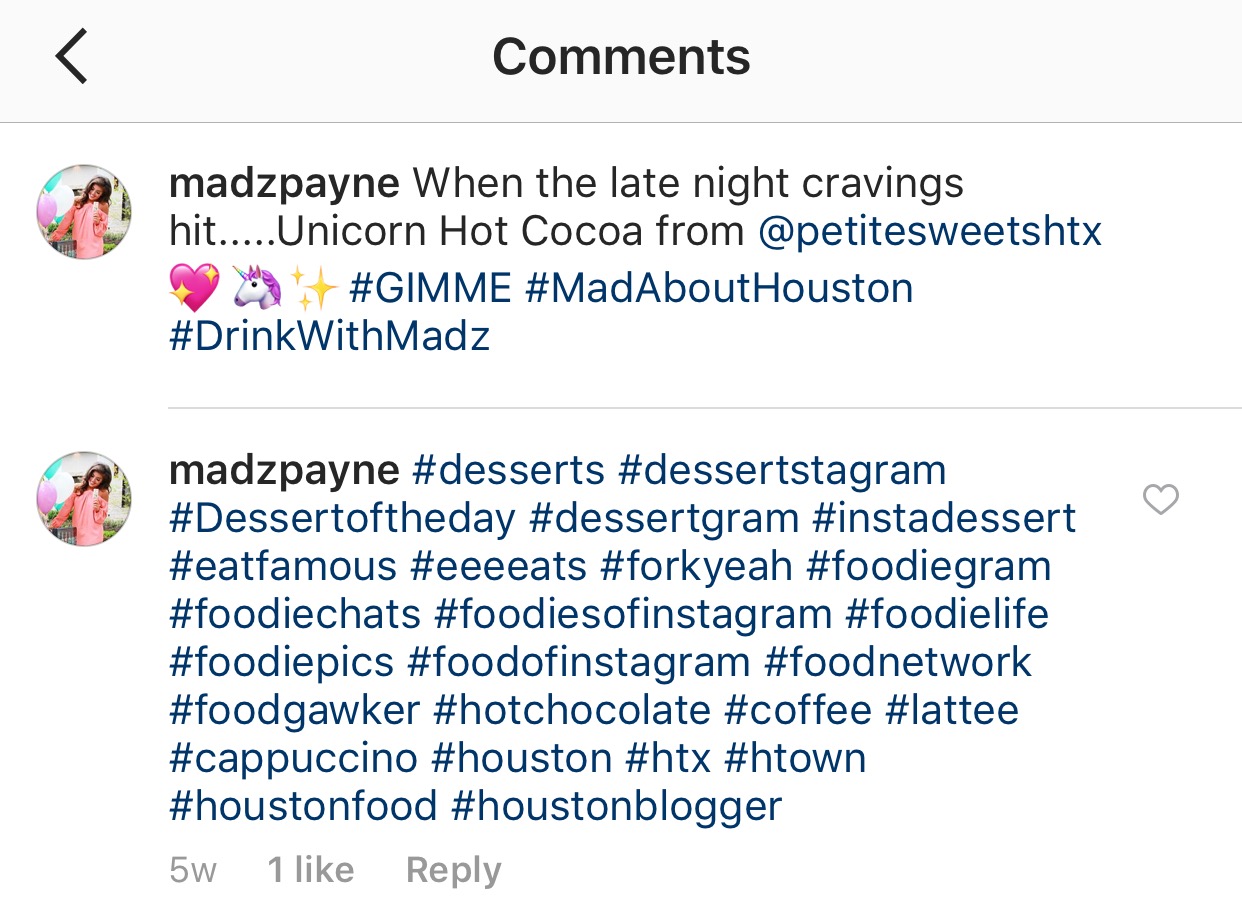 I like to do a mix of local and national hashtags. For the purpose of this post, I will put my local hashtags separate (since I know not all of y'all are in Houston) and list national ones. Just know to throw in some local ones of wherever you are too.
Here are all my different hashtag lists, feel free to copy and paste them in your next insta post!
HOUSTON: #houston #htx #downtownhouston #myhouston #bayoucity #houstonart #houstonstyle #houstonsbest #houstonmodel #houstonblogger #houstonlife #houstoncity #houstonfashion #houstonheights #heightshouston #houston_insta #htown #montrose #sugarland #spring #texas #galleria #houstongalleria #midtown #citycentre #riveroaks #memorial #washington
For food, I like to use the first hashtags to be specific and then use more broad hashtags like below- You can see I did about 5 specific to pizza.
FOOD: #Pizza #pizzagate #pizzaislife #pizzatime #pizzalove #foodnetwork #eeeeeats #eatfamous #foodiesofinstagram #foodiechats #foodgawker #foodiegram #foodieslife #foodforfoodies #foodcoma #foodbeasts #forkyeah #buzzfeedfood #buzzfeast #huffposttaste #f52grams #yahoofood #thekitchn #gloobyfood #heresmyfood
Same thing here – I used the first few hashtags to talk about dessert and then the more general ones.
#desserts #dessertstagram #Dessertoftheday #dessertgram #instadessert #eatfamous #eeeeats #forkyeah #foodiegram #foodiechats #foodiesofinstagram #foodielife #foodiepics #foodofinstagram #foodnetwork #foodgawker #hotchocolate #coffee #lattee #cappuccino
COFFEE: #coffee #coffeetime #cafe #coffeelover #coffeebreak #coffeegram #coffeeshop #coffeelife #coffeeaddict #coffeelove #coffeeholic #caferacer #coffeeart #coffeelovers #coffe #coffeeoftheday #coffeemug #coffeecup #barista #coffeeporn #instacoffee #coffeetable #caferace #cafelatte #cafeteria #coffeesesh #cafebar
These are my seasonal cocktail hashtags — I change these out quite a bit.
COCKTAIL: #cocktails #cocktail #party #cocktailbar #partyideas #poolparty #cocktailparty #pool #cocktailtime #instacocktail #cocktailart #tutorial #cocktailrecipe #instacocktails #summertime #tequila #bestcocktails #cocktailrecipes #diy #cocktailsofinstagram #beattheheat #summer #happyhour #drinkup #happyhourclub #happyhourallday #thehappyhour #classiccocktails #cocktailhour #liqpic

WINE: #winewednesday #winenot #wineo #whitewinelovers #wineaboutit #roseallday #yeswayrose #winestagram #winenot #redwinelovers #wineoclock #butfirstwine
STYLE/FASHION: #fashionista #fashionblogger #fashionblog #fashionblog #instafashion #ootd #ootdmagazine #styleinspiration #styleblogger #stylegram #lookbook #lookoftheday #whatiwore #realoutfitgram #currentlywearing #yougotitright #currentlywearing #instastyle #wiwt #bloggerstyle #fblogger #ootdmag #photooftheday #realoutfitgram #ootdshare
Same for beauty, I'll use the first hashtags to be specific.This one was for laser hair removal, then I will use the more general beauty hashtags.
BEAUTY: #laserhairremoval #hairremoval #facials #waxing #hairremovalwax #laseraway #beauty #beautyblogger #beautyblog #beautylover #bbblogger #beautyaddict #beautygram #hudabeauty #vegas_nay #brian_champagne #wakeupandmakeup #dressyourface #anastasiabeverlyhills #fiercesociety #glamvids #motd #makeupgiveaway #ghalichiglam #instamakeup
NAILS: #Nailsalon #nailsoftheday #nailartaddict #coffinnails #ombrenails #beauty #luxury #sculpturednails #opi #awesomenails #cutenails #gelpolish #acrylicnails #instanails #nailstagram #nailsofinatagram #naillove #naildesigns #nailsoftheweek #salon #nails2inspire #nailgame #notd #hudabeauty #bgdn #nailsofIG
FITNESS: #FitQuote #FitnessMotivation #Fitspo #GetFit #GoalSetting #YouCanDoIt #FitnessGoals #TrainHard #NoExcuses #Cardio #Cycling #Elliptical #FitFam #FitLife #Fitness #FitnessAddict #GetOutside #GetStrong #GirlsWhoLift #GymLife #GymTime #NoPainNoGain #PersonalTrainer #Sweat #Treadmill #Weights #WeightTraining #Workout
SOCIAL MEDIA/BLOG: #socialmedia #Socialmediamarketing #socialmarketing #socialmediatips #socialmediamarketingtips #getcreative #blogging #bloggerlife #blogger #blog #lifestyleblogger #houstonblogger #blogpost #instagram #insta #youtube #youtuber #vlogger #instgood #houston #htxblogger #bloggingtips #howtoblog
For travel I would hashtag where I was for example, #europe #london #londonbridge, then use this generic travel hashtags below.
TRAVEL: #travelblogger #travelchannel #travel #travelbloggerlife #vacation #travelphotographer #travelbug #traveling #travelgirl #travelblog #travellife #traveldiary #travelstoke #travelstagram #travelgoals #passionpassport #ootd #travelvlog #youtuber #travelvlogger
It's important to note that I change up my hashtags constantly. Instagram will actually punish you, especially if you are a business page, if you use the same hashtags all of the time. This is called shadow banning. Think of it this way, Facebook, who owns Instagram, is a business that is trying to make money (duh). So, they want you to buy ad space (those promoted posts) to get seen instead of getting seen other free ways. The best way around this is to change up your hashtags.
Pro tip: Keep your hashtags stored in your phone notes so you can access them easily and don't have to type them out every time.
Til next time!