August 30, 2017
Houston Restaurants Helping Out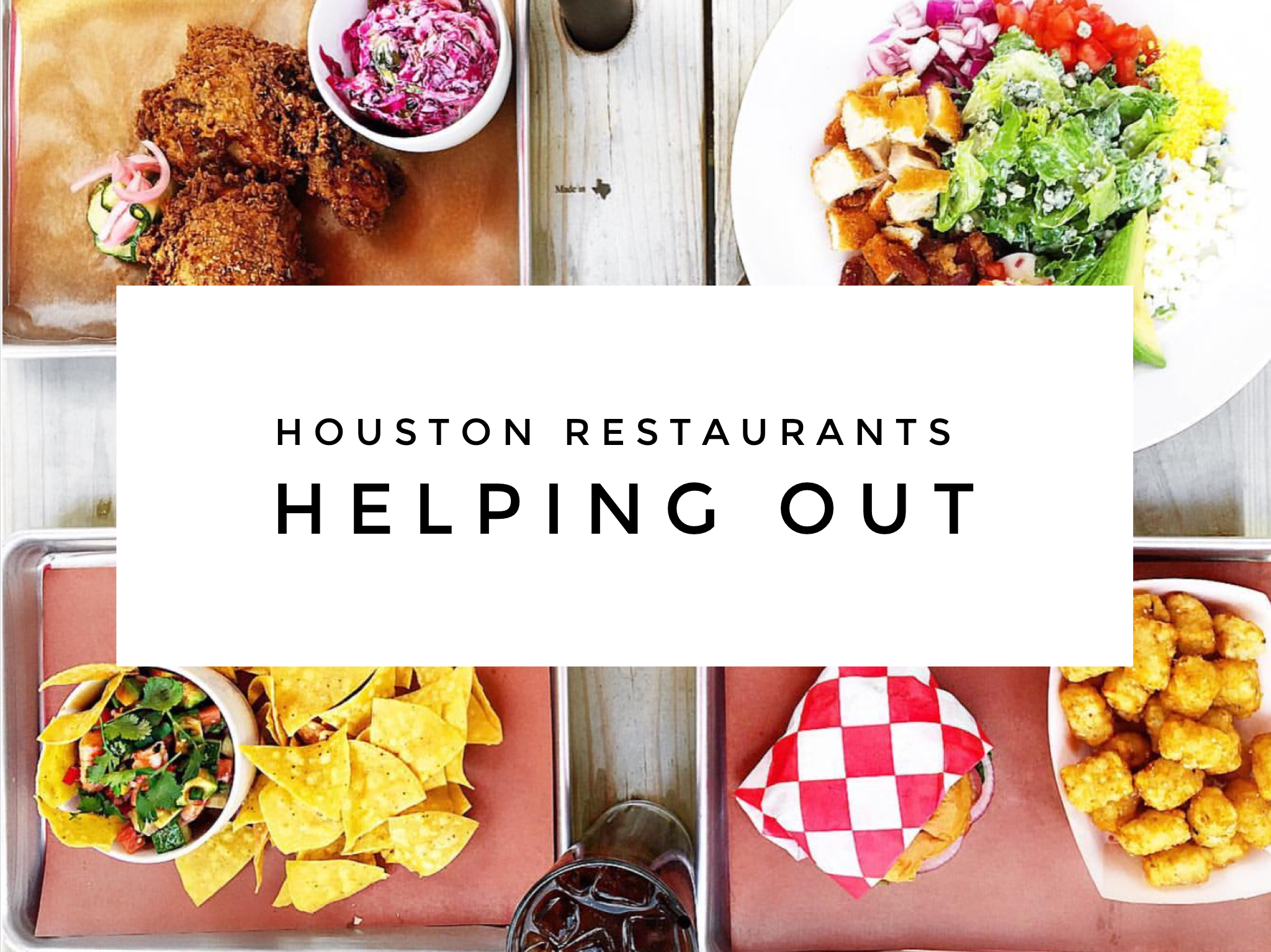 I've seen so many Houston Restaurants and Bars stepping up to help the community during this time of need. I wanted to take a moment to thank them and also let y'all know where first responders can go for a free meal or restaurants that are seeking donations for flood victims.
I plan on updating this list throughout the day so if you know of any bars or restaurants that need to be added please email me at madisonbiz@yahoo.com or DM me on Instagram @MadzPayne.
Where First Responders Can Get a Free Meal-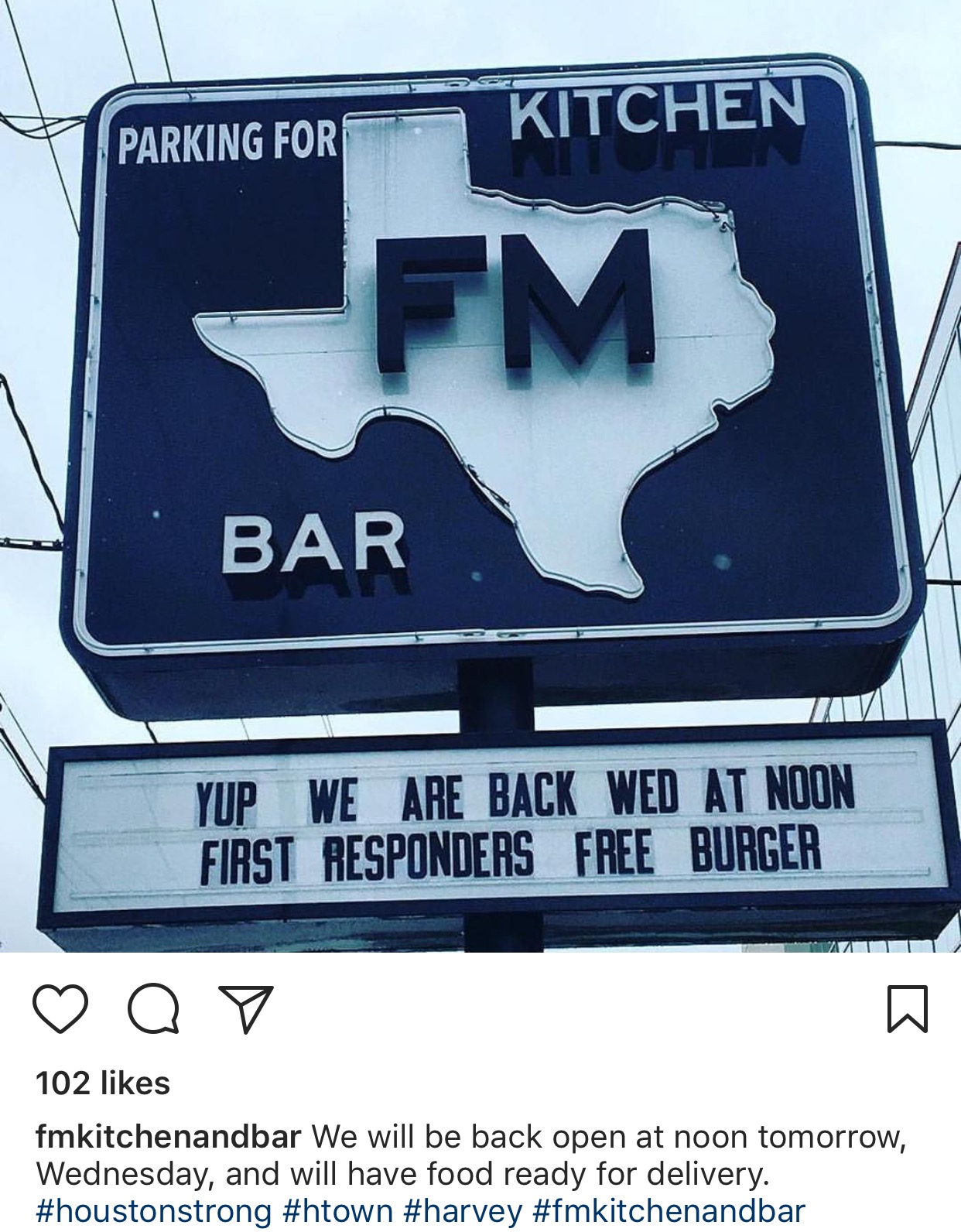 FM Kitchen & Bar
1112 Shepherd Dr, Houston, TX 77007
FM Kitchen & Bar will open today at noon (8/30) and will have food ready for delivery. The restaurant will be offering free burgers for all first responders.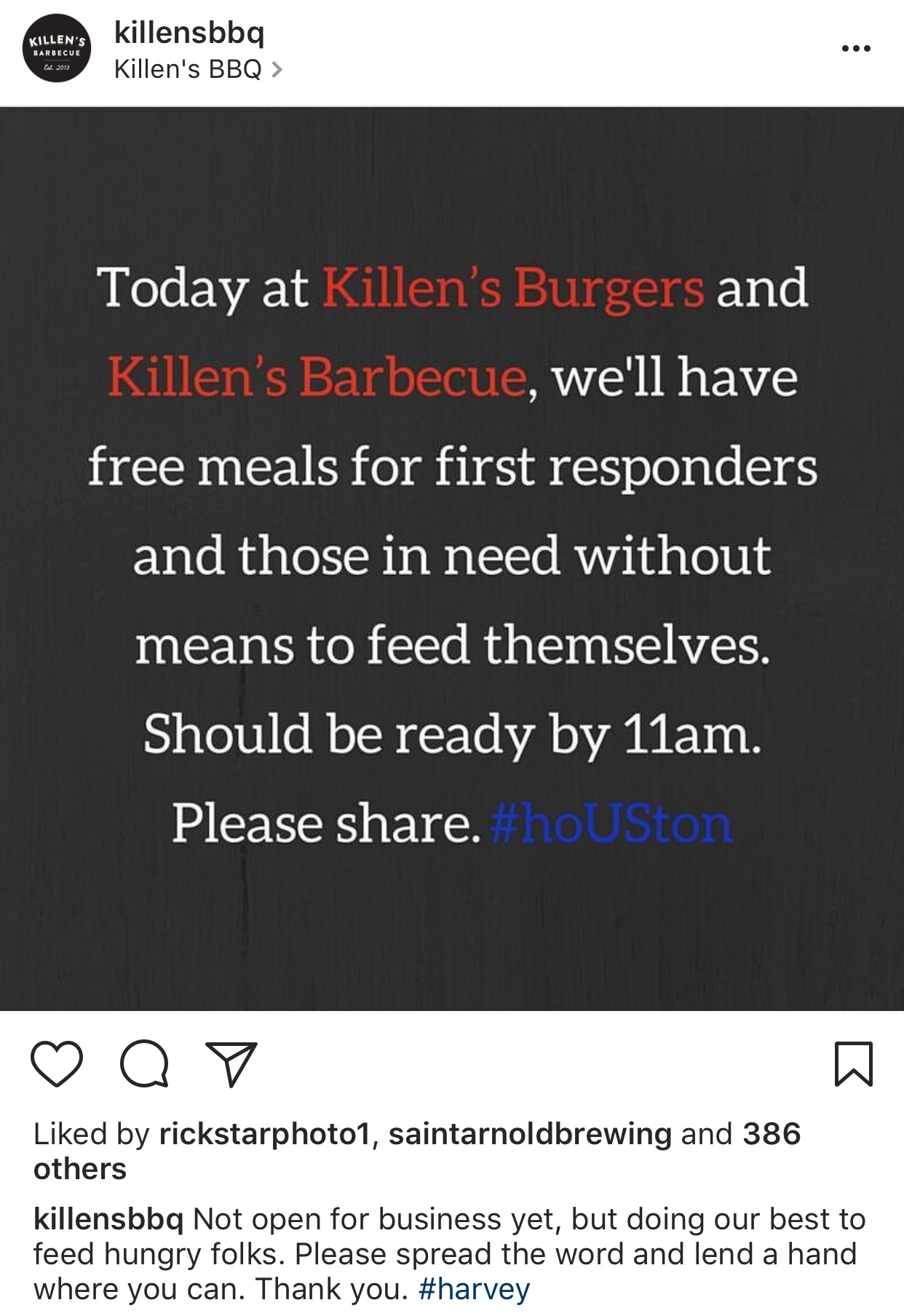 Killen's BBQ
3613 Broadway St, Pearland
Killen's will be providing free meals for first responders or those in need starting today(8/30) at 11 am.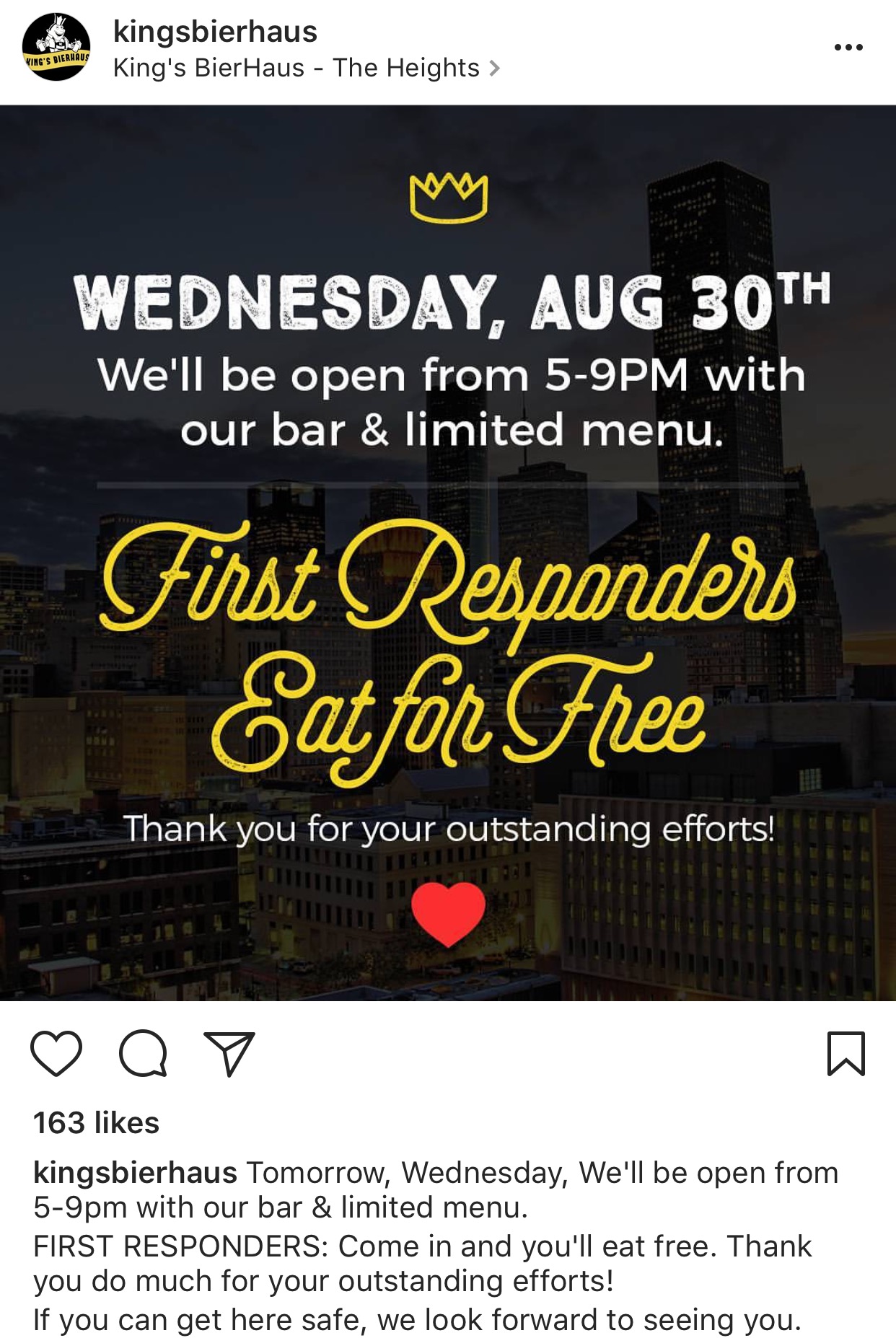 King's Bierhaus
2044 E. T.C. Jester, Houston, Texas
Open from 5 to 9 pm – Limited menu and first responders eat for free.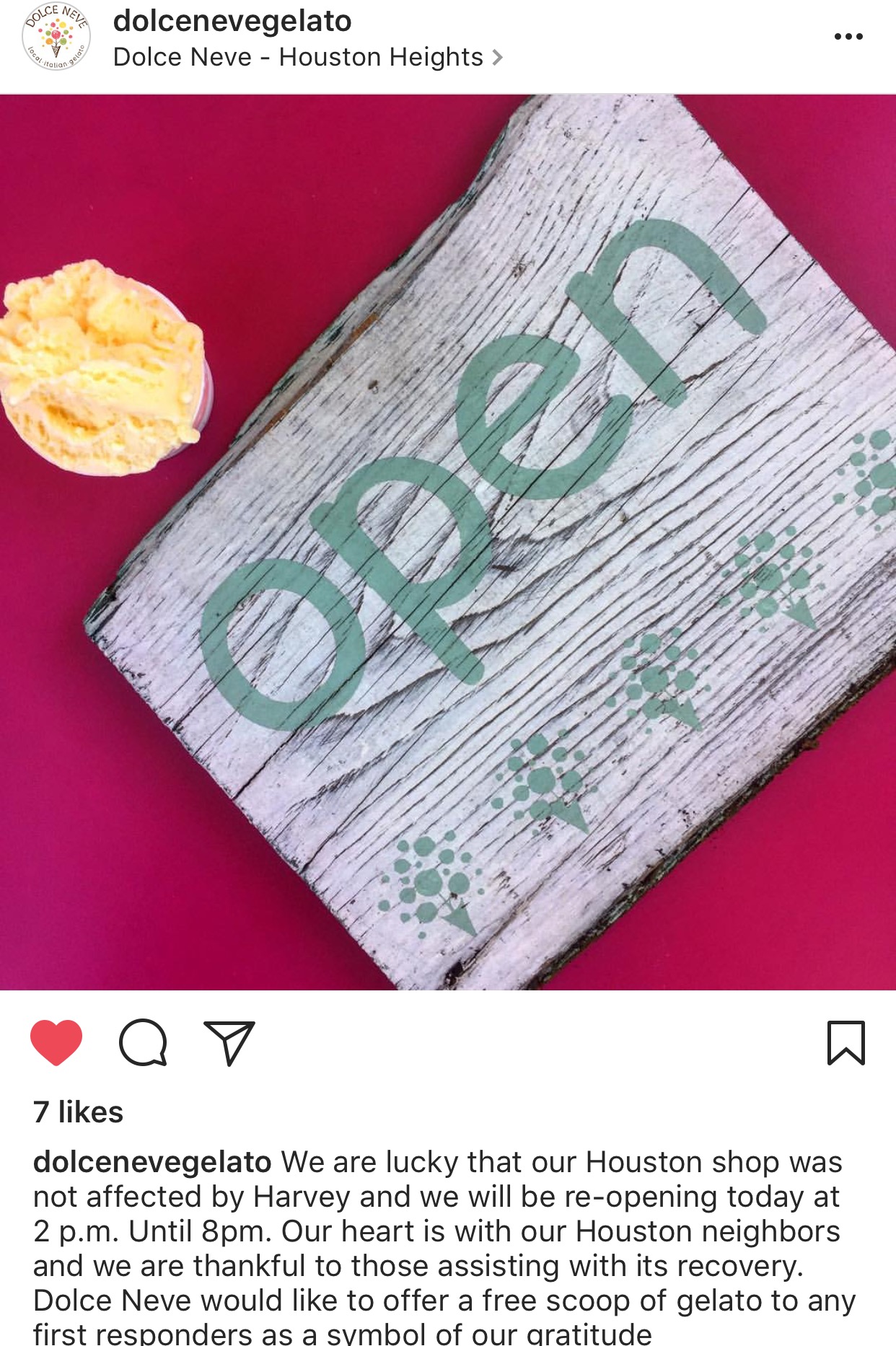 Dolce Neve
4721 N Main St, Suite H, Houston
Open and offering a free scoop of gelato to first responders.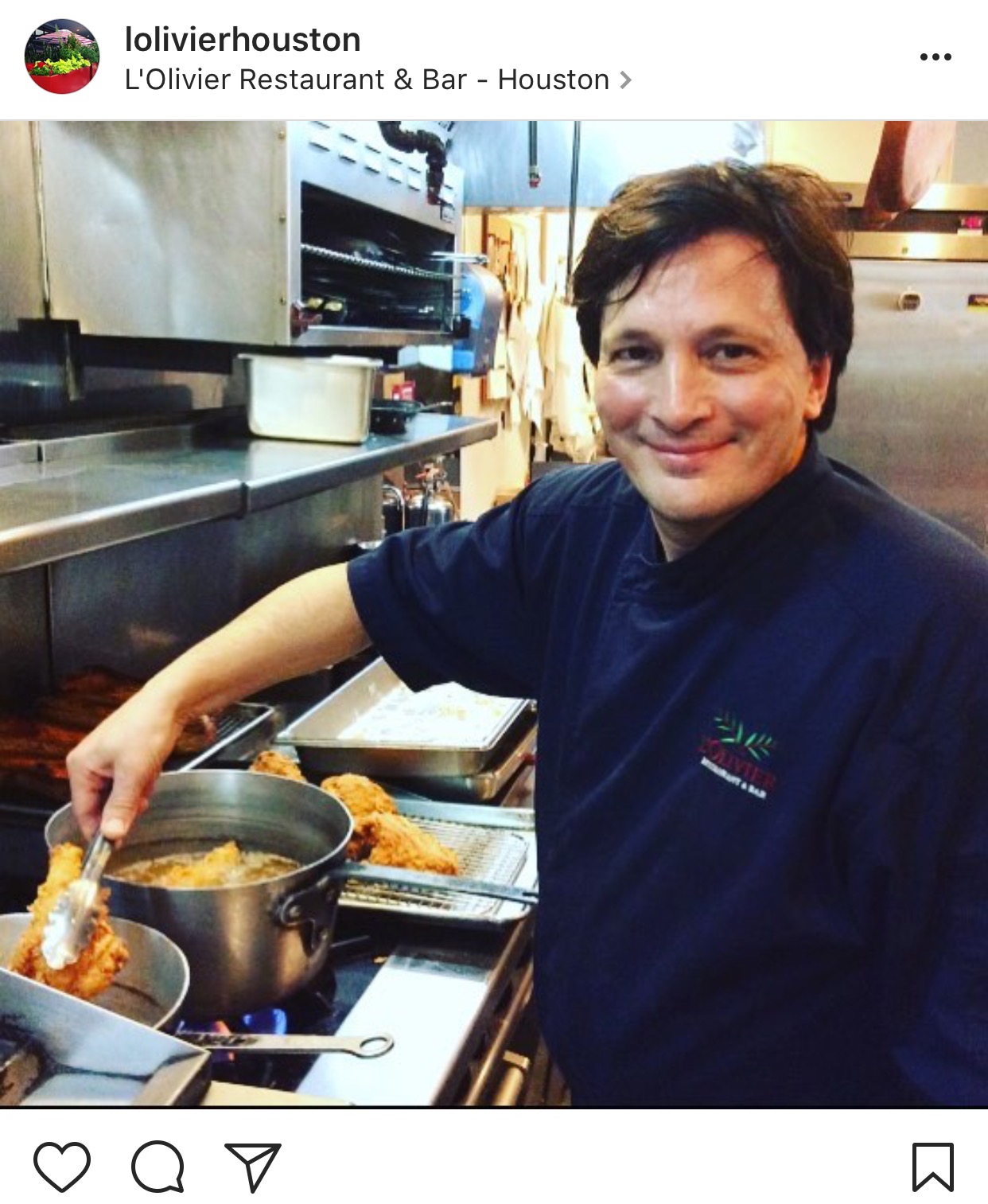 L'Olivier Restaurant & Bar
240 Westheimer Rd, Houston
Offering free food to any first responders that stop by.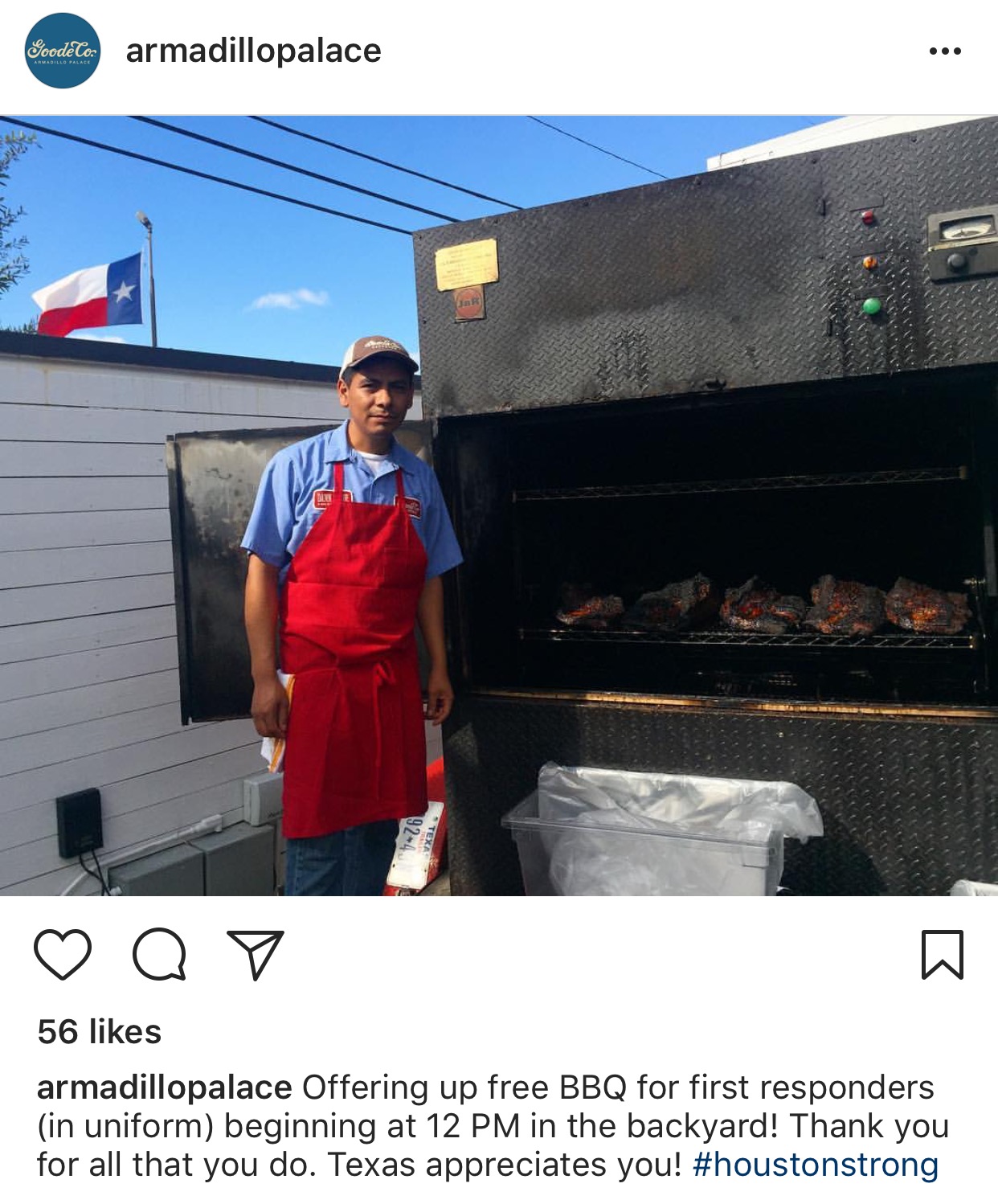 Armadillo Palace
5015 Kirby Dr, Houston, Texas
Free BBQ in the backyard starting at 12 pm for first responders.
Restaurants & Bars Accepting Donations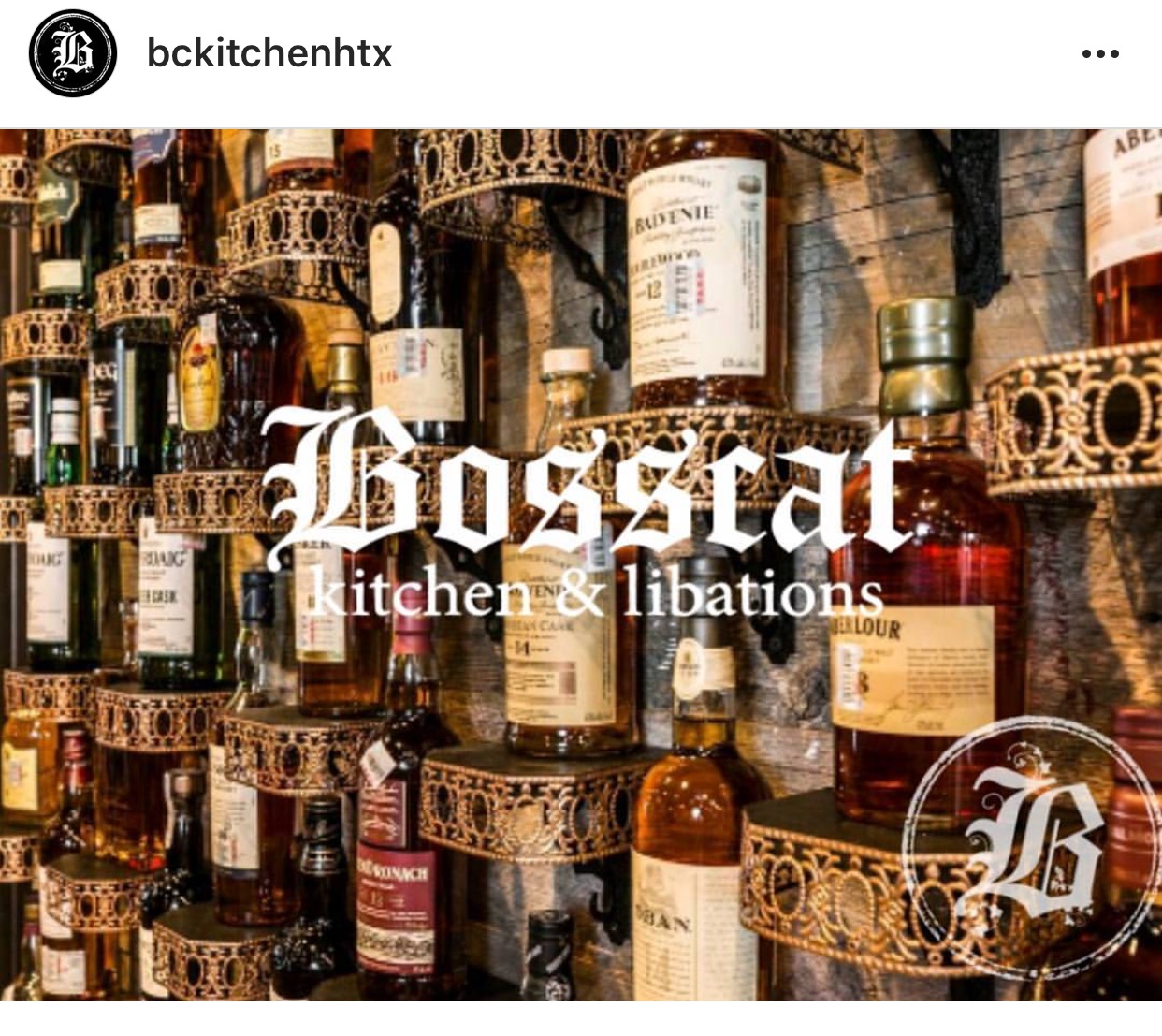 Bosscat Kitchen & Libations
4310 Westheimer Rd, Houston, TX 77027
Bosscat Kitchen & Libations will be open today with a limited menu from 4-10 p.m., or until supplies run out. They will not be charging for food — only alcohol. Said Bosscat Managing Partner Tai Nguyen: "I would like for people to come and donate blankets, sleeping bags, and canned food. I went to donate clothes and food yesterday. They told me that they have plenty of clothes. They're short on blankets, towels, sleeping bags and food. We want to help and give back. Our menu today is mostly going to be off-menu items created from that we have on hand."
Restaurants Feeding Our First Responders
These restaurants to my knowledge aren't open yet but are preparing food to take it out to first responders so I did want to mention them and what awesome things they are doing.
Peli Peli-
NEED VOLUNTEERS TO HELP over the next few days to prepare 20,000 meals.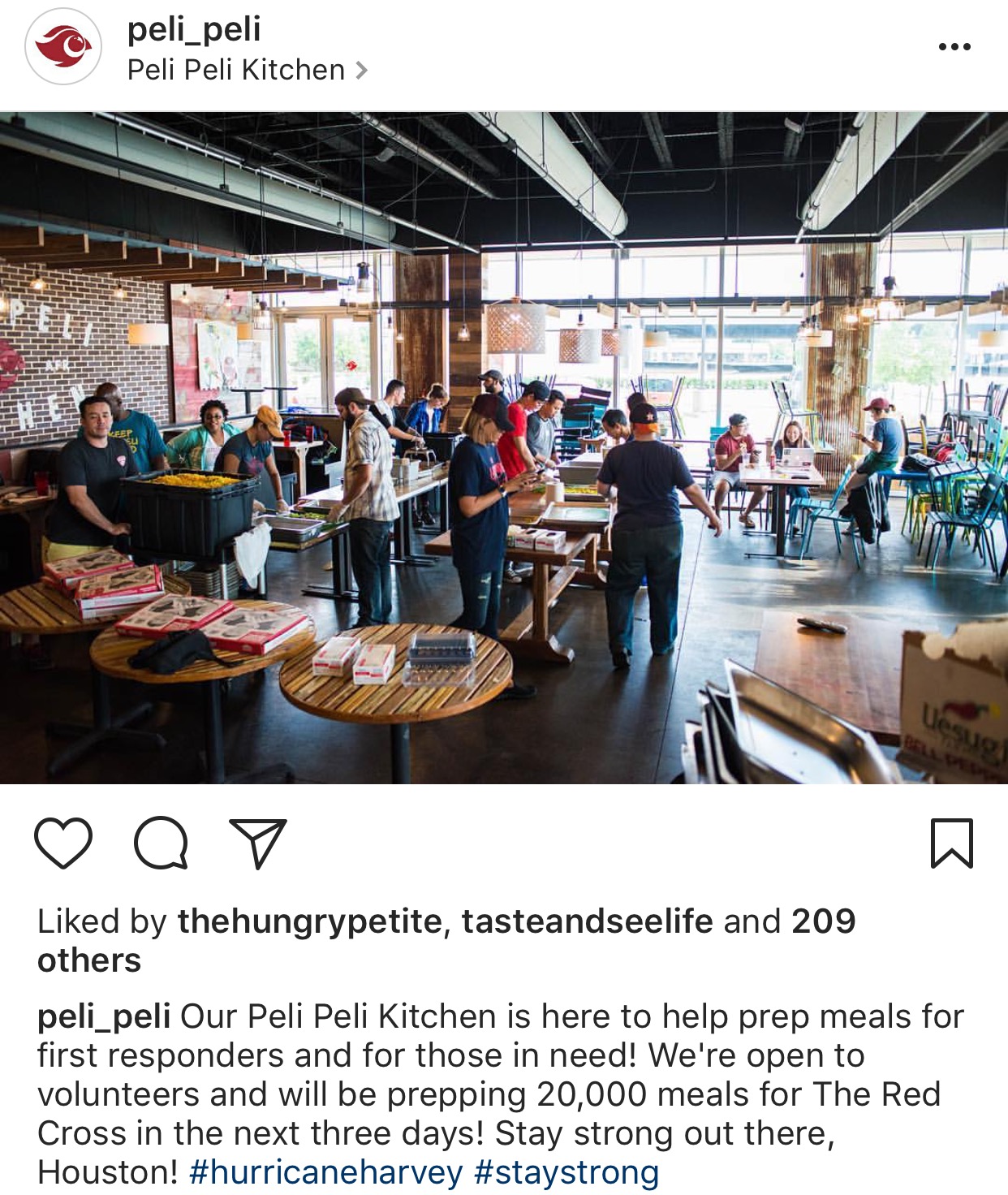 South Bank Seafood-
Thank you, South Bank for feeding the South Central Police Station!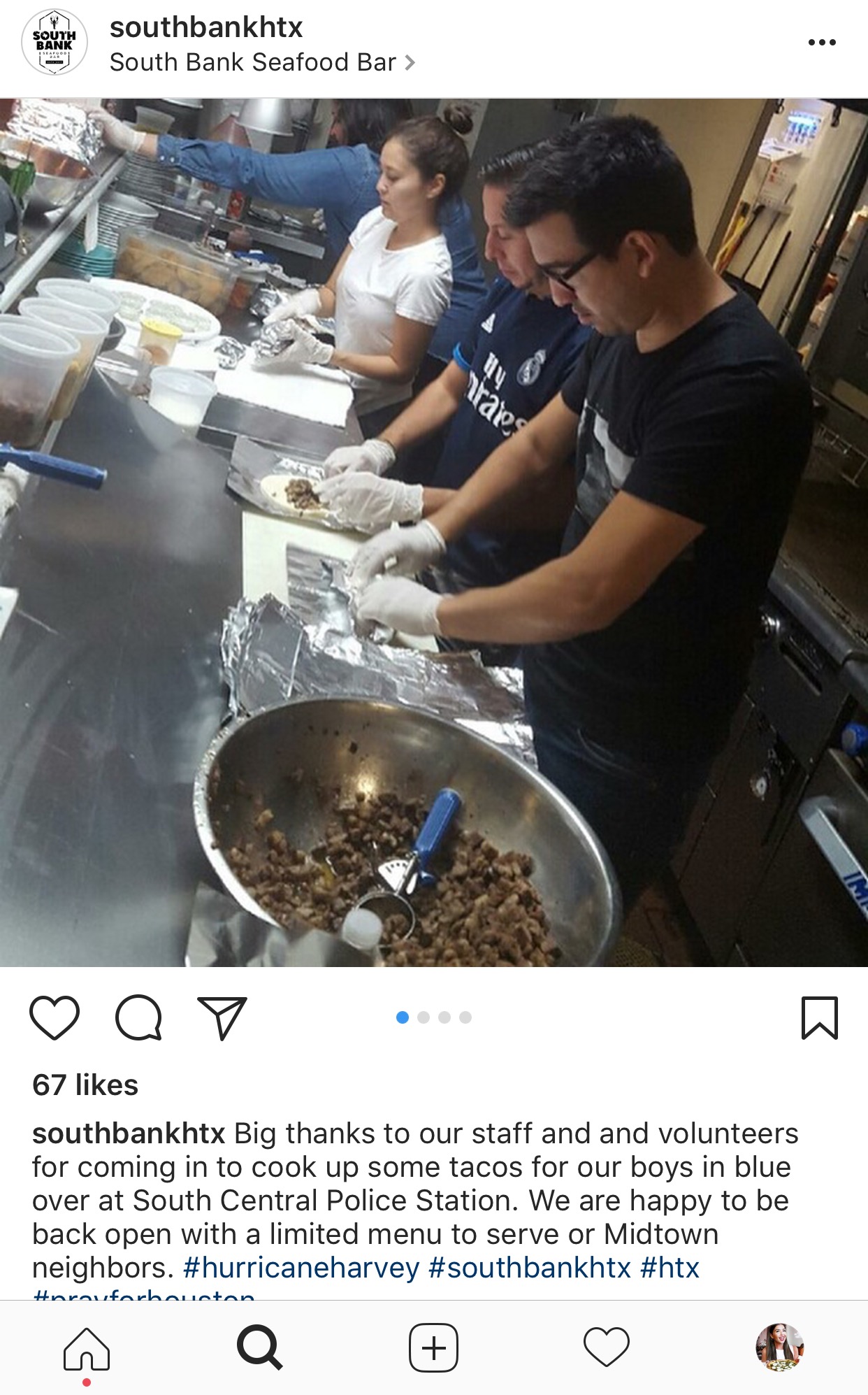 Antone's Famous Po' Boys-
Since Monday, Legacy Restaurants has donated and delivered more than 6,000 Antone's sandwiches to the Houston Police Department and other first responders, and more than 1,000 sandwiches to Texas Children's Hospital. Amazing, thank you, guys!!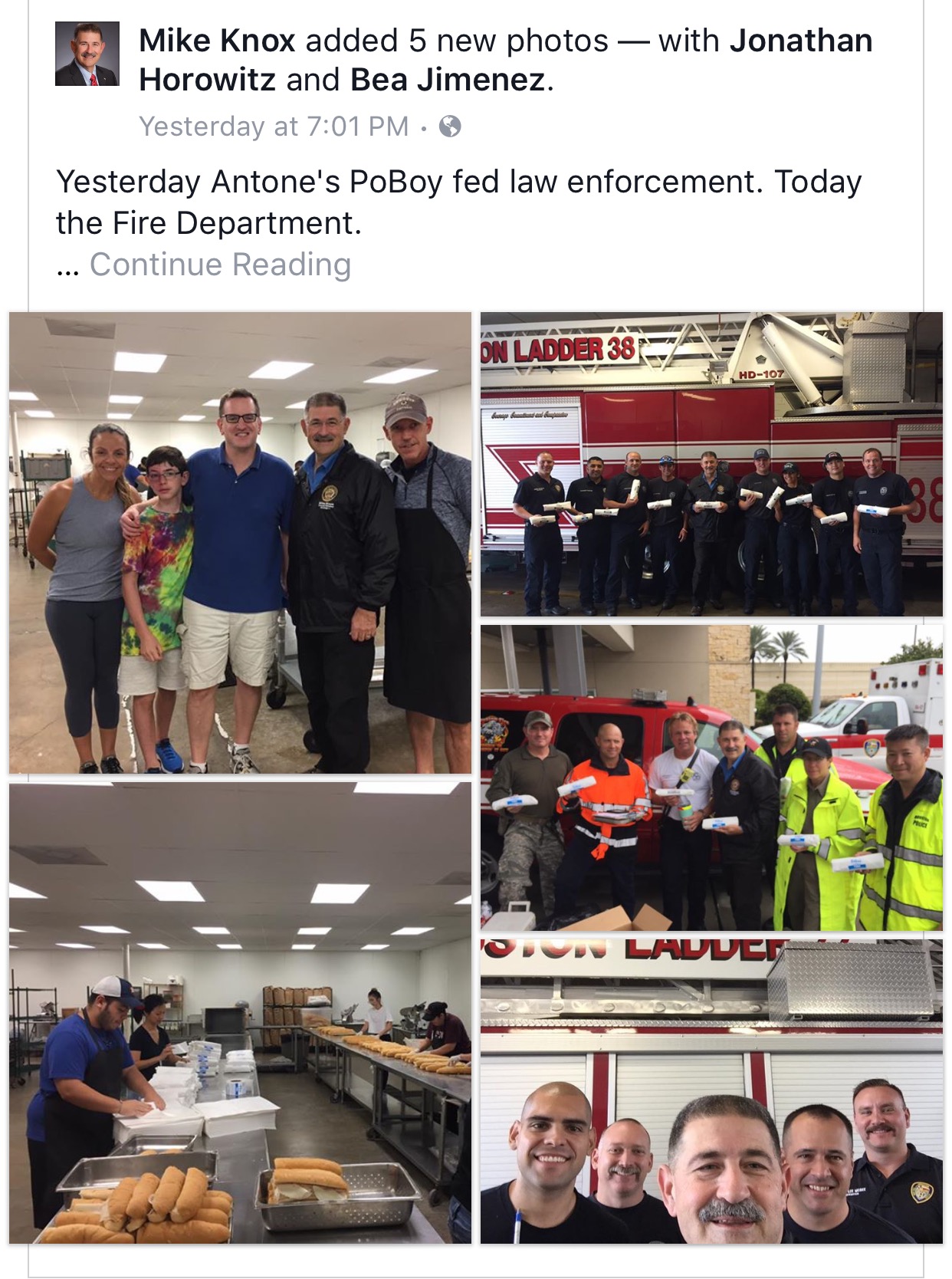 Please be safe trying to reach these restaurants and double check their social media accounts before you head over. I know a lot of resturants are on short supply. They are sure to keep the public updated if they run out of food.
Stay safe Houston!
Save
Save
Save
Save
Save
Save
Save
Save
Save
Save
Save
Save
Save
Save
Save