March 23, 2018
How to Spend the Weekend in Chicago
Natalie and I headed to the Windy City to celebrate St. Patrick's Day! It was my first time to go and I was really excited until I looked up the weather. Y'ALL, IT WAS SO COLD! It was about 50 degrees and everyone kept telling me how lucky we were to have it be that warm, clearly they have never been to Texas, LOL. Despite me being a baby and not being able to handle the weather, I fell in love with Chicago and will definitely go back during the summer when it's warmer.
WHERE TO STAY
We stayed at a girlfriend's beautiful home (Thanks Lauren!!) so, I don't have a hotel rec for you guys on this trip. However, there are SO many little neighborhoods in Chicago. If you've never been, I highly recommend staying downtown since that's where most of the touristy stuff is located. Although some of the other neighborhoods are adorable, you'll end up saving yourself money on transportation if you plan on hitting up the sights.
Air BnB is also a great option. Use this link to get $40 off your first stay.
GETTING AROUND THE CITY
Walk: Wear comfy shoes and explore the city on foot. Chicago is such a pretty city and I really loved walking around to explore. This is super doable most of the time, especially if you're staying downtown.
Uber: Use code madisonp21214ue to get your first ride for free.
Lyft: Use code MADISON77541 for $5 off your first ride.
The El: The cities public transportation. Personally, I didn't take the train, but I wish I would have to and from the airport because it was pretty pricey to use Uber. This is definitely a cheaper option, although it will take longer to get somewhere than just grabbing an Uber or Lyft.
THINGS TO SEE
The Bean (201 E Randolph St) – Actually called Cloud Gate (who knew?), it's a must do in Chicago! All of Millennium Park is cool to check out! Go super early if you don't want tourists in your photos, I personally didn't care. Also, I'm not sure how people take the photos in the bean because it's covered in fingerprints. If your heart is set on a photo in the Bean's reflection, I would seriously bring a Clorox wipe or something lol.
Skydeck (233 S Wacker Dr) – $24 and the views are worth it. However, awful lines. Honestly, this was miserable, but everyone does it. I went on a Monday about 30 minutes after it opened and waited for about two hours total. First, you wait in line to buy a ticket. Second, you wait for the elevator. Third, you wait in line for a glass pod to take your photo. It was very organized, just a ton of people. A plus tho- they have a person working each pod, so if you are by yourself (which I was, I had the lastest flight out), there is someone to take your photo, score! If you don't want to wait in line for the elevator (which was about an hour for me) and you don't mind spending more money, you can buy a fast pass. You will still have to wait in line for the glass pod. Whichever you chose, buy your ticket online to at least skip that first line.
John Hancock Observatory (875 N Michigan Ave) – Also called 360 Chicago. I was told to do this instead of Skydeck by many of my followers. I ran out of time, but it is definitely on my list for the next time I go. If you want the same view without having to buy a ticket to 360 Chicago, go to the bar located inside instead. Gorgeous view and you can have a drink overlooking the city.
The Art Institute (111 S Michigan Ave) – I wish I would've had a whole day to spend here. Their Art Museum is gorgeous! Even if you're in a hurry, it's worth it, to pop in and reenact the scene from Ferris Bueller's Day Off in front of George Seurat's A Sunday Afternoon on the Island of La Grande Jatte. So fun!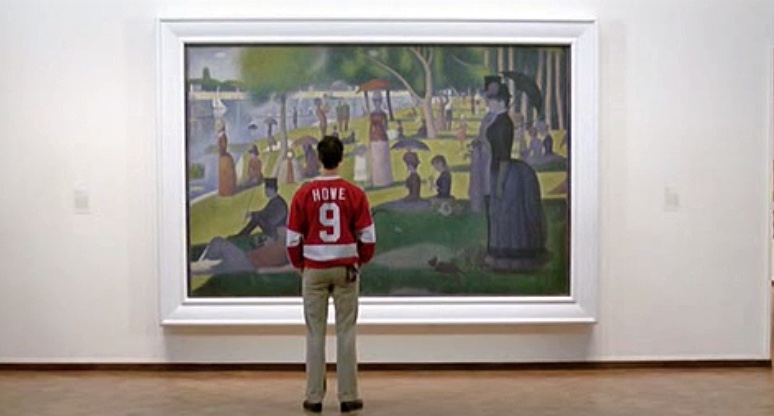 Chicago Theatre (175 N State St) – A must-do! We walked past the theatre and snapped a picture under the infamous sign on our way to the Bean, they are fairly close.
Lake Michigan (Beach) – We drove past Lake Michigan a lot, but on my next trip, I will make time to stop. It's so weird/ fun to see a lake with a beachfront. If you have time, check it out!
WHAT TO EAT
Before I get into all the yummy food that Chicago has to offer, I wanted to point out that most restaurants don't offer separate checks. In Houston, that's never a problem so I thought I'd note it. So, be prepared to pay together (you can always venmo each other after like we did).
Portillo's (multiple locations) – Counter service and super cheap! My hot dog was less than $4 and a huge beer was $5 (score!).  I daydream about this place now. It was so good, I regret not going more than once.
The Hampton Social (353 W Hubbard St) – Full service and I would make reservations. I've seen this adorable restaurant all over Instagram and Pinterest. Highly recommend going for brunch and getting the Rose' of the day! Sidenote: If you want Rose' by the glass they have a daily special, all other Rose' is served by the bottle.
Giordano's Pizza (multiple locations) – I was told this was the best deep dish place to try in Chicago and I wasn't disappointed! Kinda a long wait but they let us put in our pizza order while we had a drink at the bar, so the pizza was ready about the same time we were sitting down. Not bad at all!
Lou Malnati's (multiple locations) – We didn't go here but I was also told that this is the best pizza in Chicago. I will try on my next visit and let y'all know what my verdict is lol.
Pizzeria Uno (29 E Ohio St) – I was told by the locals that this pizza isn't the best. However, it is the birthplace of the deep dish pizza, so I definitely want to try it next time!
The Purple Pig (500 N Michigan Ave) – Another one we didn't make it to, but it was hands down the most recommended place I got on Instagram.
Troquet (111 W Huron St) – Located inside Hotel Icon and I can't recommend it enough for a boozy brunch. The food was delicious and for only $27 bucks it includes an entree and bottomless mimosas. We couldn't get a reservation for a party of 6, but we just went 15 minutes before they started serving brunch and were able to get on the list.
WHERE TO GRAB DRINKS
The Chicago Athletic Association (12 S Michigan Ave) – Just WOW to this whole building. It looks like an old library and in different rooms, there are different bars. It was gorgeous and also where I found my new favorite drinks, Hard Rose' Cider (it's amazing, just trust me). We actually went for Cindy's Rooftop, but the line was too long, so we wandered upstairs to other bars that were fantastic.
Sluggers (3540 N Clark) – *Located in Wriggyville* On our first night we wanted to explore the string of bars around Wrigley Stadium, they were all pretty fun, but the best was Sluggers. A regular sports bar on the bottom and a piano bar upstairs. It was seriously a blast. If you end up in this neighborhood, I highly recommend it. Also, they have a batting cage upstairs too (it was under construction when we went but looked fun).
Begyle Brewery (1800 W Cuyler Ave) – I'm not sure how well known this brewery is even in Chicago but Natalie found it on Instagram and it was seriously adorable. The had great craft beers, flights, and I even had a coffee beer, which I promise tasted a lot better than it sounds. Also, they have a huge stack of cards and board games for you to play while you are sipping. It was a really fun time.
Three Dots and a Dash (435 N Clark St.) – This Tiki Bar really couldn't be any more instagrammable. Besides the fun drinks, the staff also makes super cute animals out of fruit.
CUTEST COFFEE
Toni Patisserie & Café (65 E Washington St) – I loved this place, it looks like a little Parisian cafe! It's also right across from the Bean, so a great spot if you are already in the area.
Hero Coffee (22 E Jackson Blvd, multiple locations but this is the alley I went to) – This hidden coffee bar is the cutest thing! However, It's tiny and there is no place to drink it inside. You really go for the pic unless you catch it on a nice day and can stand sitting outside.
Sawada (112 N Green St.) – *This one is in the West Loop*  Hiroshi Sawada, who is a world-renowned barista, started this cafe specializing in beautiful matcha lattes. I didn't make it over there because it wasn't downtown, but if you end up in the West Loop, check it out and do it for the gram!
WHAT TO PACK
So, that's my Chicago Travel Guide! I hope this helps you plan your perfect trip to the Windy City! If you have any questions or things to add, leave a comment below! Make sure to follow me on Instagram for more travel inspo. All of my Chicago photos on Instagram can be found under the hashtag #MadAboutChicago.