January 8, 2019
Amazon Wigs
I've been obsessed lately with changing my hair. I feel like my hair has looked the same for years, so I'm ready to rock a completely different look! I asked you guys on Instagram (@MadzPayne) for some ideas on hair colors and a lot of y'all recommended I try on wigs first to see what I liked. OKAY….Y'all I'm officially obsessed, and I'm not sure why I haven't been wearing wigs the whole time?! I wear extensions, and ladies wigs are pretty much the same thing (lol). I went to Bellami to try on wigs (I'll do a separate post on all of those because I tried on a bunch). I did a ton of research – read wig reviews for HOURS and found some real gems on Amazon too that are super inexpensive. I also got everything else needed for wig care on Amazon, I've linked everything below!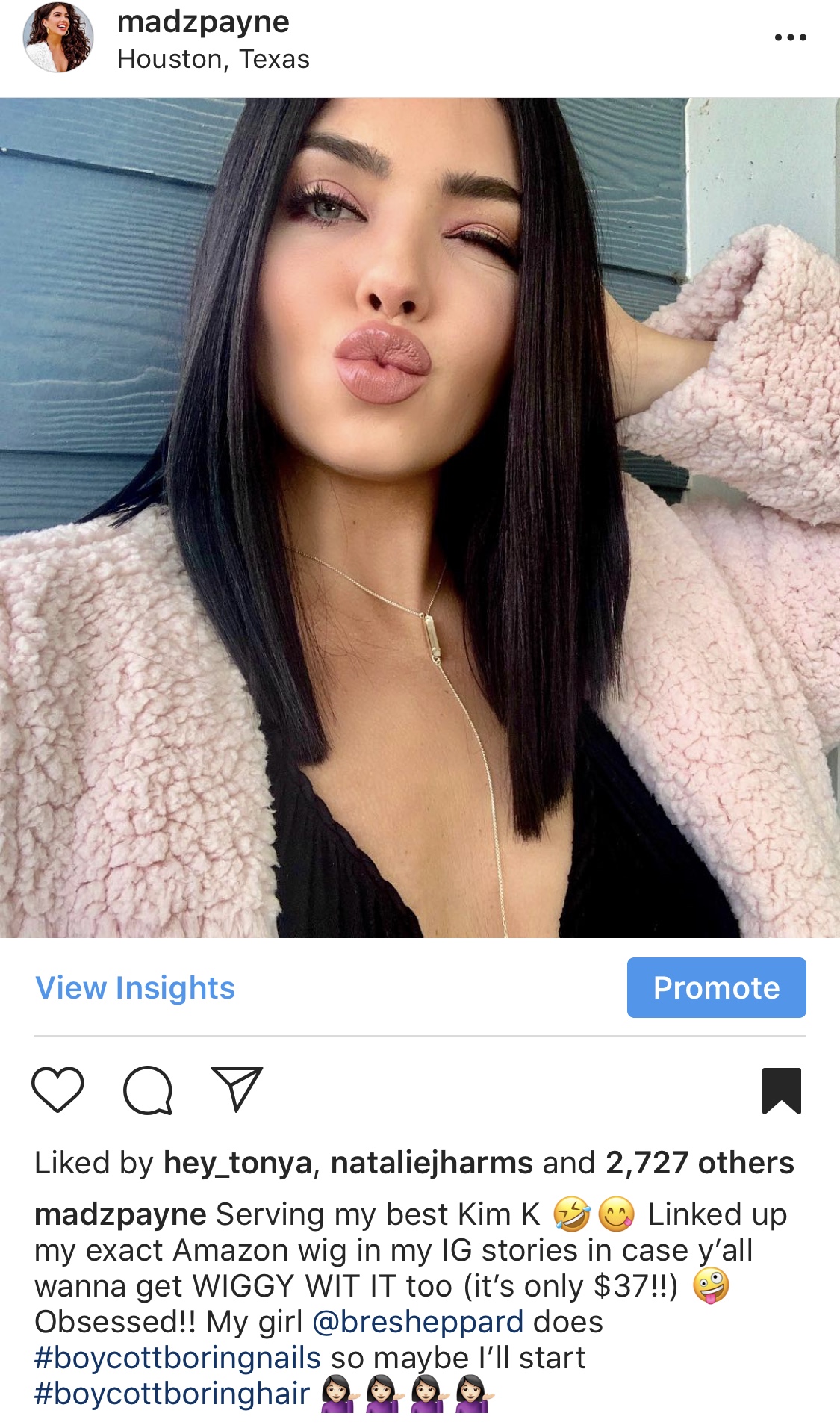 I shared this wig today, and you guys went nuts, so I wanted to show you guys the other two I got on Amazon as well. NOTE: the teal wig below is the brown wig I have on in the picture above- it's the only photo on Amazon, but they offer it in a few colors (mine is #4).
What You Need to Apply Wigs
I watched a bunch of Youtube videos on how to properly put on a wig and ordered the goodies below. Now for my photo and IG stories, I didn't use any of this – I just put my hair in a bun and slapped it on, it stayed just fine! But if you want your wig to be snatch proof (AHAHA a sentence I never thought I'd type), then you'll want to use the products below.
How to Store Your Wigs
I ordered this wig head but instantly regret it. The head thing is a little creepy. Bellami had these collapsible stands –  I found on Amazon too – and I think it's more aesthetically pleasing.
How to Properly Put on Your Wig & Make Cheap Wigs Look Real
All in all, I think the wigs are worth the inexpensive price tag!! I haven't tweaked any of my wigs yet but I did watch this video below and plan on using all these tricks on my wigs to make them look even more real (although all the wigs I got from Amazon already look really great! The one in the photo hasn't been messed with at all).
Can't wait to see what you babes look like in your wigs!! Till next time,
Madz