I asked y'all on stories (IG @MADZPAYNE) what specific blogging/influencer questions you had. A follower wrote in
"Getting accepted into LiketoKnowIt is my issue. How am I supposed to get people to shop without a swipe up or a LTK page."
Let me break this down into two questions. For the swipe up feature, Instagram requires you to be a business page (basically a facebook business page you connect to your Instagram profile- that parts easy) with a minimum of 10,000 followers OR to be verified (blue checkmark). If you don't fall into one of those two categories there is isn't much you can do until you reach the 10k mark. I would recommend sending people to your profile and utilizing the link in your bio to drive your audience where you want them to go.
Just so y'all know, LikeToKnowIt is also rewardStyle- here are the differences.
rewardStyle is the platform that you will see your blogging business on – sales, commission rates, etc. Think connecting bloggers to retailers.
LikeToKnow it is the app (and now desktop site) that is a social-based shopping network that connects the customer to blogger/influencer picks.
rewardStyle is currently what I use to link up products. It has changed a lot since I first applied 5+ years ago. You had to have a website for one already. Now that isn't a requirement, but in general, they are a lot pickier. I looked online and couldn't find any criteria for being accepted. It did stick out to me that now they are calling themselves an "invitation-only" platform.
A follower was kind enough to send me their rejection letter, and here is what RewardStyle had to say. I do hear about there vague rejections often, and people are pretty upset about this.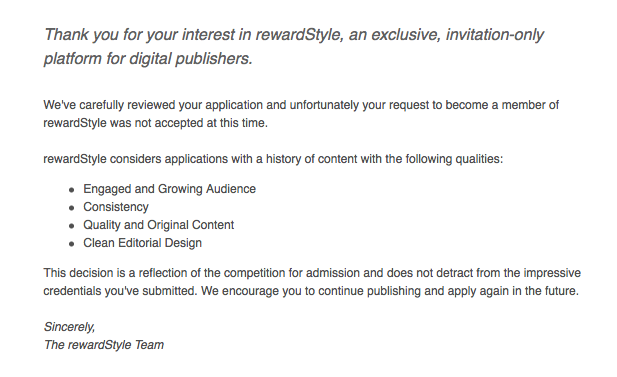 So what do you do when you aren't accepted to rewardStyle? They aren't the only shopping network in the game. Here are my top 3 picks for rewardStyle Alternatives.
Shop Style Collective – The most similar to rewardStyle. A lot of prominent bloggers have switched to this platform, and I have heard nothing but great things. They also have widgets like Rewardstyle (those pretty and organized grids of products you see on websites).
Amazon Affiliate- Who doesn't shop on Amazon? This is a fan favorite for most bloggers, whether they are on other shopping platforms or not.
MagicLinks- Fast approval and is very easy to use. They may not have as many retailers but its a great place to start.
I hope this helps you to feel more encouraged and navigate your way through the affiliate marketing waters! Let me know if you have any other blogging questions; this is my favorite topic!
Til next time,
Madz