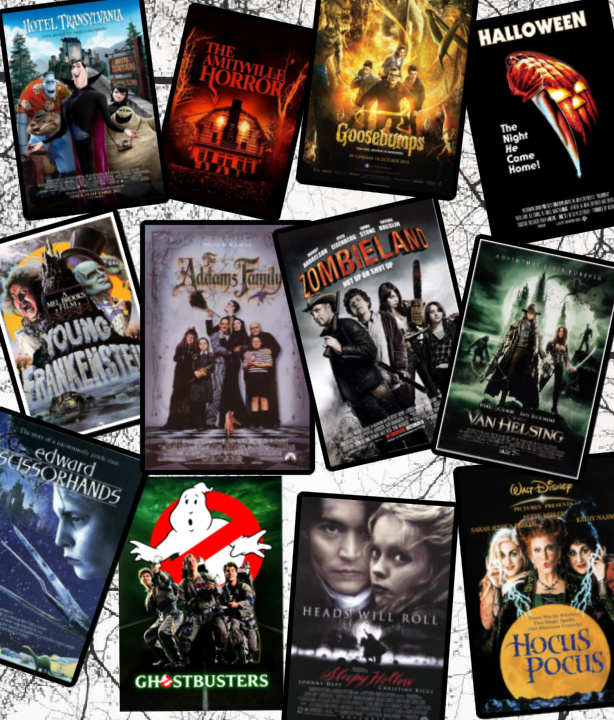 October is here and I'm so happy to announce the launch of my new YouTube channel, COUCH DOGS. I will be talking all things movie and television, so stayed tuned! But first, I'm breaking down where you can find those Halloween movies for the month of October. I've included this fun printable, so you can have them at your fingertips all month long. Nothing to fill out, just CLICK HERE to download the pdf!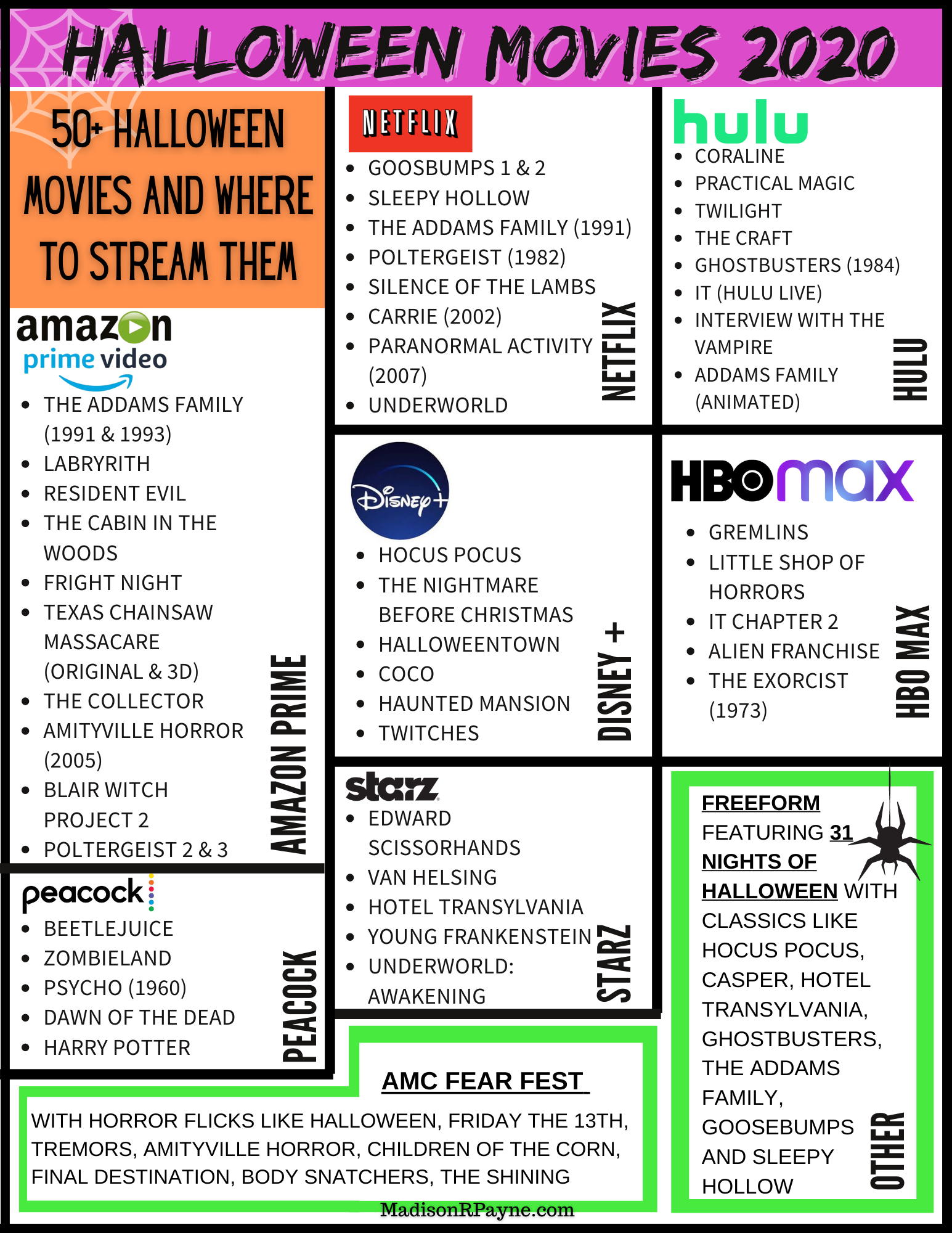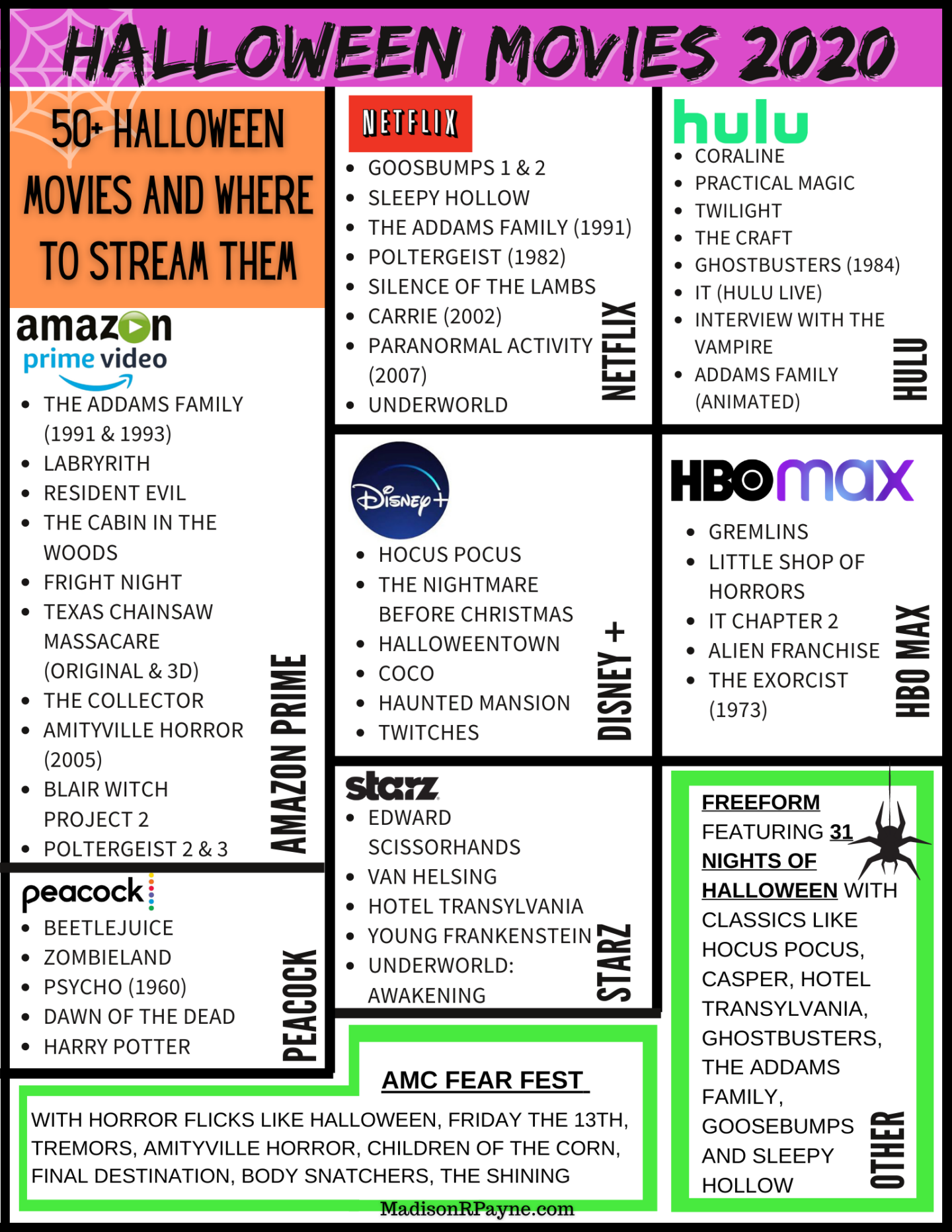 CLICK HERE TO DOWNLOAD THE PDF

GOOSEBUMPS 1 & 2
SLEEPY HOLLOW
THE ADDAMS FAMILY
POLTERGEIST (1982 VERSION)
SILENCE OF THE LAMBS
CARRIE (2002 VERSION)
PARANORMAL ACTIVITY
UNDERWORLD

CORALINE
PRACTICAL MAGIC
TWILIGHT
THE CRAFT
GHOSTBUSTERS (1984)
IT (HULU LIVE)
INTERVIEW WITH THE VAMPIRE

THE ADDAMS FAMILY (1991 & 1993)
LABRYRITH
RESIDENT EVIL
THE CABIN IN THE WOODS
FRIGHT NIGHT
TEXAS CHAINSAW MASSACRE (ORIGINAL & 3D)
THE COLLECTOR
AMITYVILLE HORROR (2005 VERSION)
BLAIR WITCH PROJECT 2
POLTERGEIST 1 & 2

HOCUS POCUS
THE NIGHTMARE BEFORE CHRISTMAS
HALLOWEENTOWN
COCO
HAUNTED MANSION
TWITCHES

BEETLEJUICE
ZOMBIELAND
PSYCHO
DAWN OF THE DEAD
HARRY POTTER (YES! HARRY POTTER IS BACK ON A STREAMING SERVICE)

GREMLINS
LITTLE SHOP OF HORRORS
IT CHAPTER 2
ALIEN FRANCHISE
THE EXORCIST (1973 VERSION)

EDWARD SCISSORHANDS
VAN HELSING
HOTEL TRANSYLVANIA
YOUNG FRANKENSTEIN
UNDERWORLD: AWAKENING
AMC FEAR FEST features horror flicks like Halloween, Friday the 13th, Tremors, Amityville Horror, Children of the Corn, Final Destination, Body Snatchers and The Shining.
FREEFORM is featuring 31 Nights of Halloween with classics like Hocus Pocus, Casper, Hotel Transylvania, Ghostbusters, The Addams Family, Goosebumps and Sleepy Hollow.
THE SYFY CHANNEL will be spotlighting marathons with some of our favorites… including A Nightmare on Elm Street with all 6 movies running on October 29th and the Harry Potter series running a marathon on Halloween day. More lighthearted movies are also being featured like Hook, Zombieland, Monster House and The Mask.
Enjoy the season and until next time, Happy Halloween ya'll!
Until Next Time!