Last week's best sellers are so good! From a black crewneck that will be a staple in your fall wardrobe, a denim belted trucker jacket, down to a pair of croc western booties.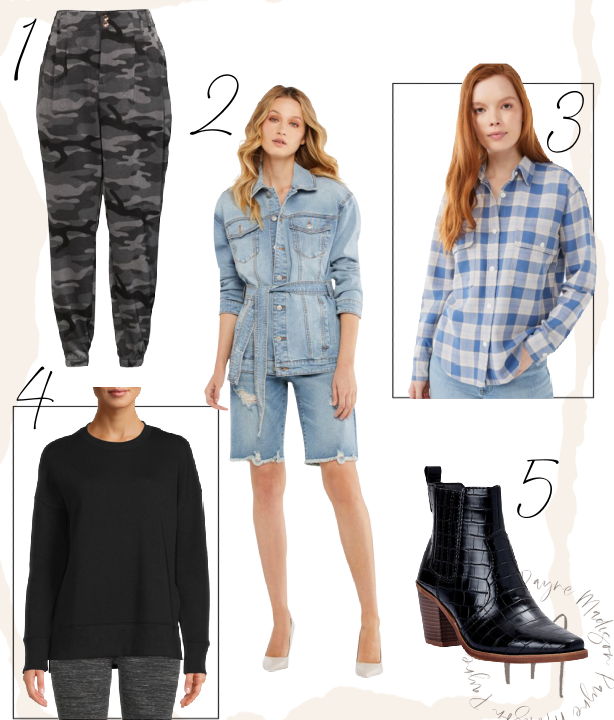 1 – CAMO PLEATED SATIN PANTS [fit tts] | 2 – DENIM BELTED TRUCKER JACKET [fit oversized] | 3 – BLUE PLAID BUTTON DOWN [fit tts] | 4 – BLACK CREWNECK PULLOVER [fit oversized] | 5 – BLACK CROC WESTERN BOOTIES [fit tts]

BEST SELLERS:
The pleated satin pants come in multiple colors including some solids that would be great to wear to the office.
The belted denim jacket can be worn with the belt or without. It naturally has an oversized fit, but when you use the belt it gives some added definition to your waist.
You can never have too many flannel shirts when it comes to fall. So add this one to your cart if you haven't already.
I have the black crewneck in every color it comes in, which is a lot! It has a slit on each side at the bottom. And some colors are an Aerie dupe.
Lastly, the croc booties – they look very high fashion and western is trending this fall season.
In case you missed it, check out my Favorite Budget Beauty From Amazon HERE. Also, check out my latest Walmart YouTube video, you can see how I styled some of these best sellers!
Until next time!